The slip burner is a very popular burner it has been used in many sizes of small lamps from small hand lamps, shelf lamps and small table lamps Worldwide. Patents for the design appear around 1860 by Companies such as Deitz and Miller. The brand most often found in the UK is from Veritas who imported burners from Germany.
Slip burners were measured by wick width in inches, standard sizes were 3/8", often called 'Gem', 1/2'' often called 'Bijou', then 3/4'', 1'' and 11/2'' Slip.

The correct chimney for this type of burner is the 'Slip' style, the bulge in the chimney allows full combustion of the paraffin vapour and the height of the chimney controls the speed of airflow past the wick.
There is also a small chimney for the Gem burner referred to as the 'Pine' because of its pine cone shape.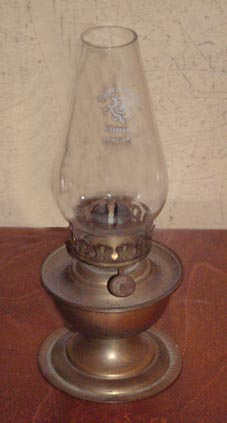 Left is a 3/8" wick 'Gem' burner with Gem Pine chimney. It fitted to a little brass shelf lamp designed to give just a little light to a dark corner or in a hall.
Note the depression in the top of the fount to collect surplus, unburnt oil if the lamp is left turned up too high for short periods.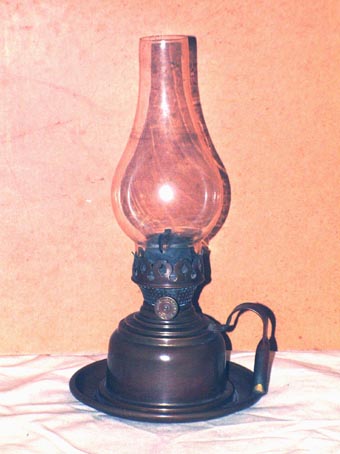 A common Veritas hand lamp made to the same pattern from the late 1800's until the end of the 1930's. Many lamps will have the Veritas 'cloverleaf' logo underneath with the year of manufacture below.
The 1" slip burner has a standard slip chimney, this lamp is a particular favorite because of the rich brown patina on the brass which has accumulated over time. Over polishing can destroy the patina reducing the value of older pieces.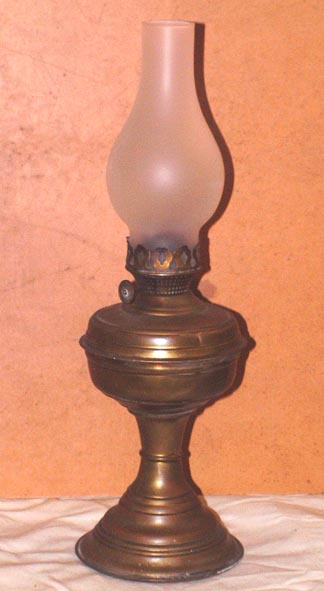 Left is a 1" slip burner, fitted to a small table lamp. A frosted chimney has been fitted to give a softer light. Sometimes lamps like this would have a shade ring and small shade or globe fitted. A special 'Straight Slip' chimney of a more cylindrical design would be fitted to allow the globe to fit over. These chimneys are rare now